It's Turkey Time! House Dress-ing Anyone?
Maybe you prefer the tofurkey or you're putting a lasagna in the oven despite loud objections from the couch-potatoes.  Whether or not turkey is your game, we're in the holiday season and we want to look our best.
If you're reading this while taking a breather from kitchen duties or have been invited to a holiday gathering, comfort is key to a happy belly — and nothing beats a casual dress. In fact, never was the casual dress more prominent than in 2020 when Zoom meetings took us from dressed to half-dressed and quarantines ushered in a new generation of house dress aficionados.
Prior to 1960, and for most of the early 20th Century, the house dress was the practical choice for homemakers. Tailored, non-restrictive, and not too fussy, Lucy and Ethel could dust, mop, and still look appropriately outfitted when the Fuller Brush man came to call.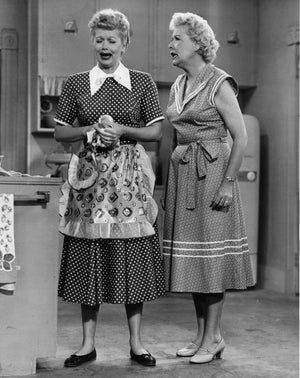 Photo Credit: Good Housekeeping
Fast forward fifty years to the Age of Ath-Leisure, and stretchy comfort pants had usurped the dress.  They could be seen everywhere from living room couches to airports. They became a staple for women on the move and for those spending more time working from home. They were a godsend for the home-bound in the midst of a worldwide crisis.
But even in the eye of the pandemic, yoga pants would lose their elasticity, and their luster, after weeks of sheltering in place. Faced with being the homemaker, homeschooler, and homeworker, finding our way back to the house dress became an appealing option.
Nothing puts a mo in your jo like the casual dress: instant outfit! They don't require the same effort as pulling separates together. Plus, you can bring home the bacon, fry it up in a pan, teach your 7-year-old second-grade math, and still look professional at the virtual conference table — or festive for the holiday table!
Of course, if pants are your thing, there's every good reason to take comfort there. Technology has put just enough stretch into tech pants and scuba leggings to expand for an extra helping of dressing and slice of your favorite pie! Pair with a sophisticated blouse and go upscale. Throw on a longer-length reversible cardigan to cozy up on the couch for some touchdowns!
As we look forward to gathering today and throughout this season, take stock of your closets as well as your pantries. There's still time for something new or to make some upgrades to carry you through the December holidays and winter months ahead.
Wherever you find yourself this Thanksgiving day, may it be sweet and bountiful — and if you're making turkey, don't forget to remove those giblets!
Yours Truly,
Lisa
It's Turkey Time! House Dress-ing Anyone?
---